MADE FOR SOLAR RETAILERS & SOLAR INSTALLERS
Profitable, Reliable & Easy STC Trading 
Managing and trading STCs can be a nightmare that drowns you in paperwork. With Greenforms, managing and trading STCs is stress-free, paperless and prompt!
Our Best Price Guarantee* ensures you'll always get the best rate for your STCs.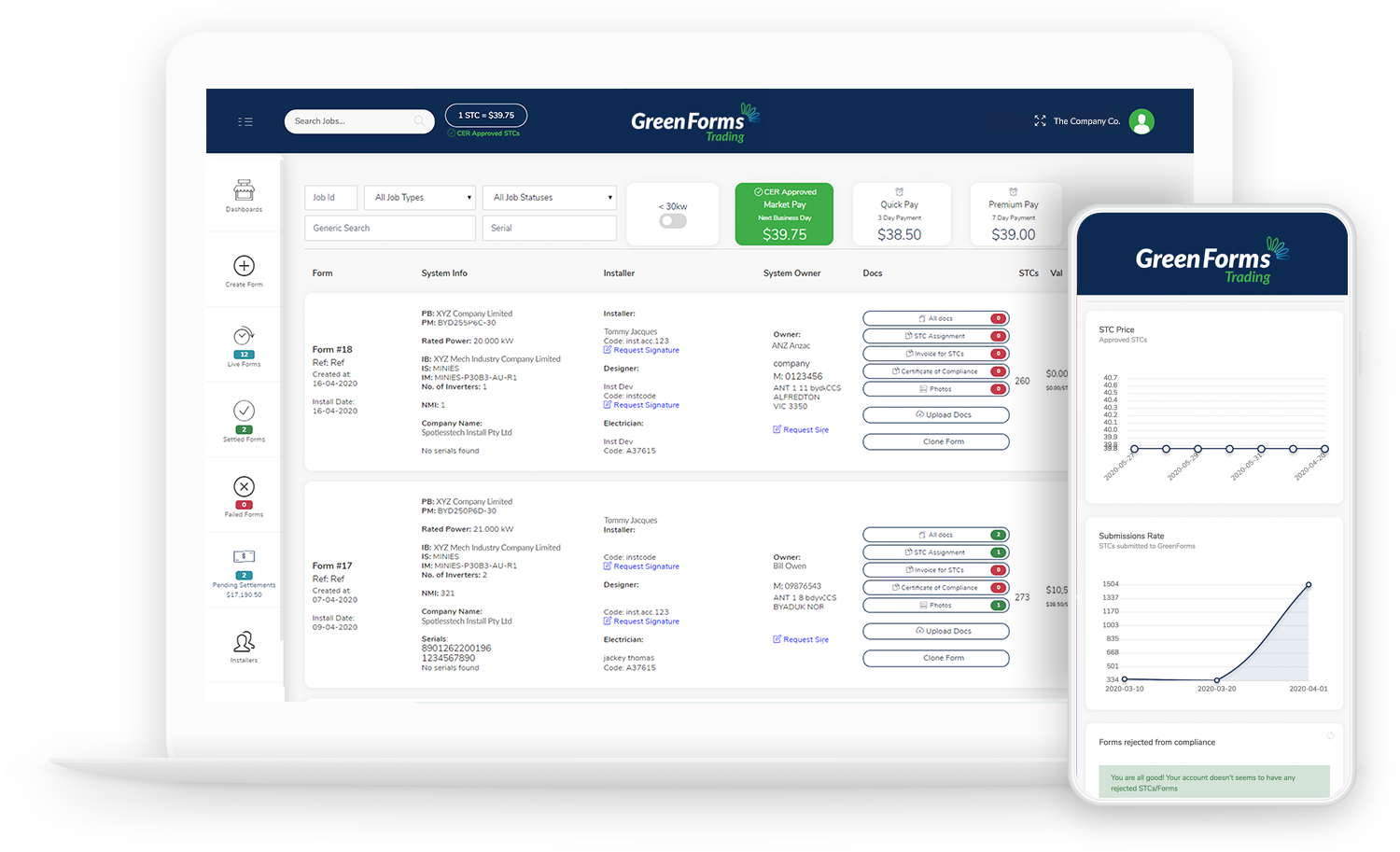 Get Started For Free!
The Greenforms Trading portal allows you to take pictures, scan barcodes, collect e-signatures so you can store and manage all your STC paperwork online.
Why Choose Greenforms Trading
Best Price Guarantee
If you find a better rate for your STCs for the same terms that we offer, we'll beat that rate so you can trade at the best price.
Paperless Experience
Our portal provides a clear process to collect and store all the documents needed for STC trading online on the app.
Made by Solar Experts
The people at Greenforms Trading have been a part of the industry for 20+ years, so we can relate to your challenges. 
Reliable Payments
Partnering with us means that you can rely on us to receive your payments promptly, on time and in full.
Multiple Trading Options
You can choose to trade unregistered certificates or registered certificates on different payment terms.
Android and iOS App

You can manage, access and trade your STCs on-the-go with our full-feature Android and iOS apps. Download it now!
Approved Aggregator

Greenforms Trading is 100% approved and accredited as a STC aggregator by the Clean Energy Regulator.
Strong Team Size
We have a strong team size with a team that has been in the energy industry for years, you can rely on us for our expertise
Watch How Ben Uses GreenForms Trading to Grow His Solar Business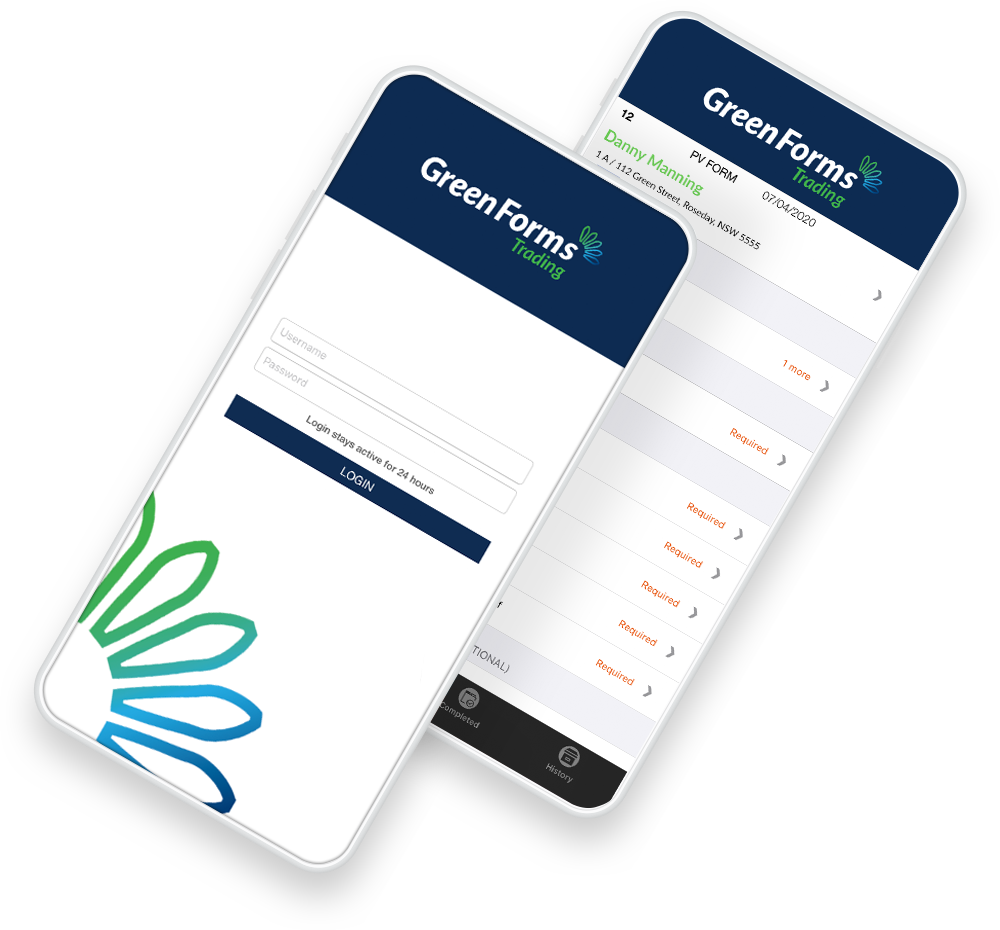 We Make it Easy for Solar Installers & Solar Retailers
Collecting all the details, noting barcodes, getting signatures and waiting for government approvals can be exhausting… Avoid all paperwork, get started with Greenforms
Greenforms Portal and App Features
Document checklist
Barcode scanner
E-Signature
Photo storage
STC rates
Easy Form Management
Settlements History
Live Form Status Updates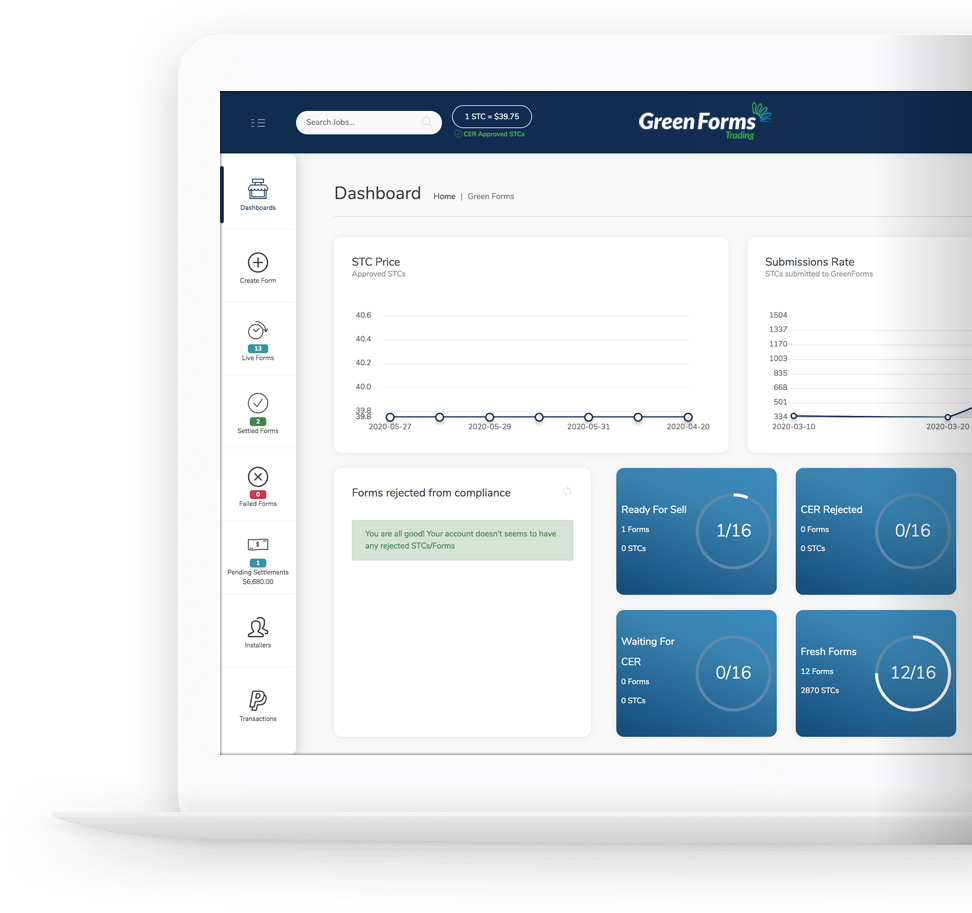 Let's Get Started
Ready To Manage & Trade Your STCs Easily? Register Today!